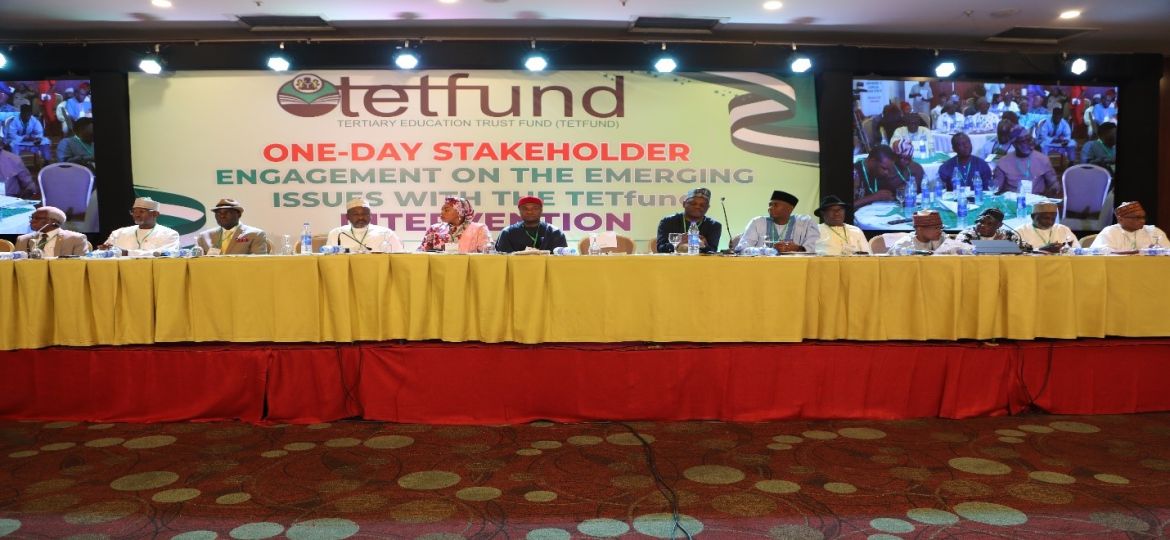 As part of efforts towards strengthening the intervention activities of the Tertiary Education Trust Fund (TETFund) and addressing emerging issues surrounding its interventions, a one-day stakeholders' meeting was recently organized by the Fund in Abuja.
Speaking at the event, Executive Secretary of TETFund, Arc. Sonny S.T. Echono stated that the event was designed to foster engagements that would enhance effectiveness of the Fund's programmes to further strengthen efforts towards national development.
According to the Executive Secretary, the programme was initiated in 2022 to gather valuable feedbacks which has helped in reviewing the Fund's activities, especially the creation of intervention lines for abandoned projects, among others.
Speaking on challenges facing the foreign component of the TETFund Scholarship for Academic Staff (TSAS) programme, the Executive Secretary stated that the recent monetary policy of the Central Bank of Nigeria (CBN), rising inflation and instability in foreign exchange were threatening the sustainability of the programme due to difficulties being experienced in payment of tuition and stipends of scholars.
He noted that due to the development, TETFund was considering partial suspension of foreign scholarships to academics of its Beneficiary Institutions while considering an upward review of local scholarships.
According to the Executive Secretary, it was for the above reasons and others that the Fund organized the engagement to address the challenges and find solutions to ensure the effective and smooth implementation of the TSAS programme.
Speaking on plans to boost the TSAS programme in the future, the Executive Secretary stated that the Fund has signed Memoranda of Understanding with some prestigious institutions overseas, including universities in Malaysia, India, Brazil, France, and the United States of America.
Also speaking at the engagement, former Executive Secretary of the National Universities Commission (NUC), Prof. Peter Okebukola, who spoke on the topic "TSAS, Emerging Issues, and Possible Solutions" stated that local universities should be provided with state-of-the-art facilities rather than keep spending huge funds on foreign training.
He also advocated for a monitoring and implementation system which would ensure that academic calendars of Nigerian universities were adhered to.
In his remarks, Acting Executive Secretary of NUC, Dr. Chris Maiyaki emphasized the need to develop new strategies for funding of tertiary education. He also advised TETFund to overhaul its monitoring mechanism for quality assurance and better returns on investments.
Also speaking at the event, Chairperson of the House of Representatives Committee on TETFund and other Services, Princess Miriam Onuoha called for inclusivity for persons living with disabilities while making essential infrastructures available in tertiary institutions.
Former Chairman of the Independent National Electoral Commission (INEC), Prof. Attahiru Jega, who served as moderator at the event, called for the non-cancellation of the TSAS programme noting that the scheme remained relevant despite its challenges.