THE STATUS OF TETFUND'S CENTRES OF EXCELLENCE (TCoEs)
Background
The TETFund Centres of Excellence (TCoEs) intervention, was considered in the 2020 intervention budget. The sum of twelve billion Naira (N12,000,000,000.00) was approved by the Fund's Board of Trustees for the establishment of twelve (12) Centres of Excellence, two in each of the six geo-political zones, at the cost of one billion Naira (N1,000,000.00) per center as shown in the table below: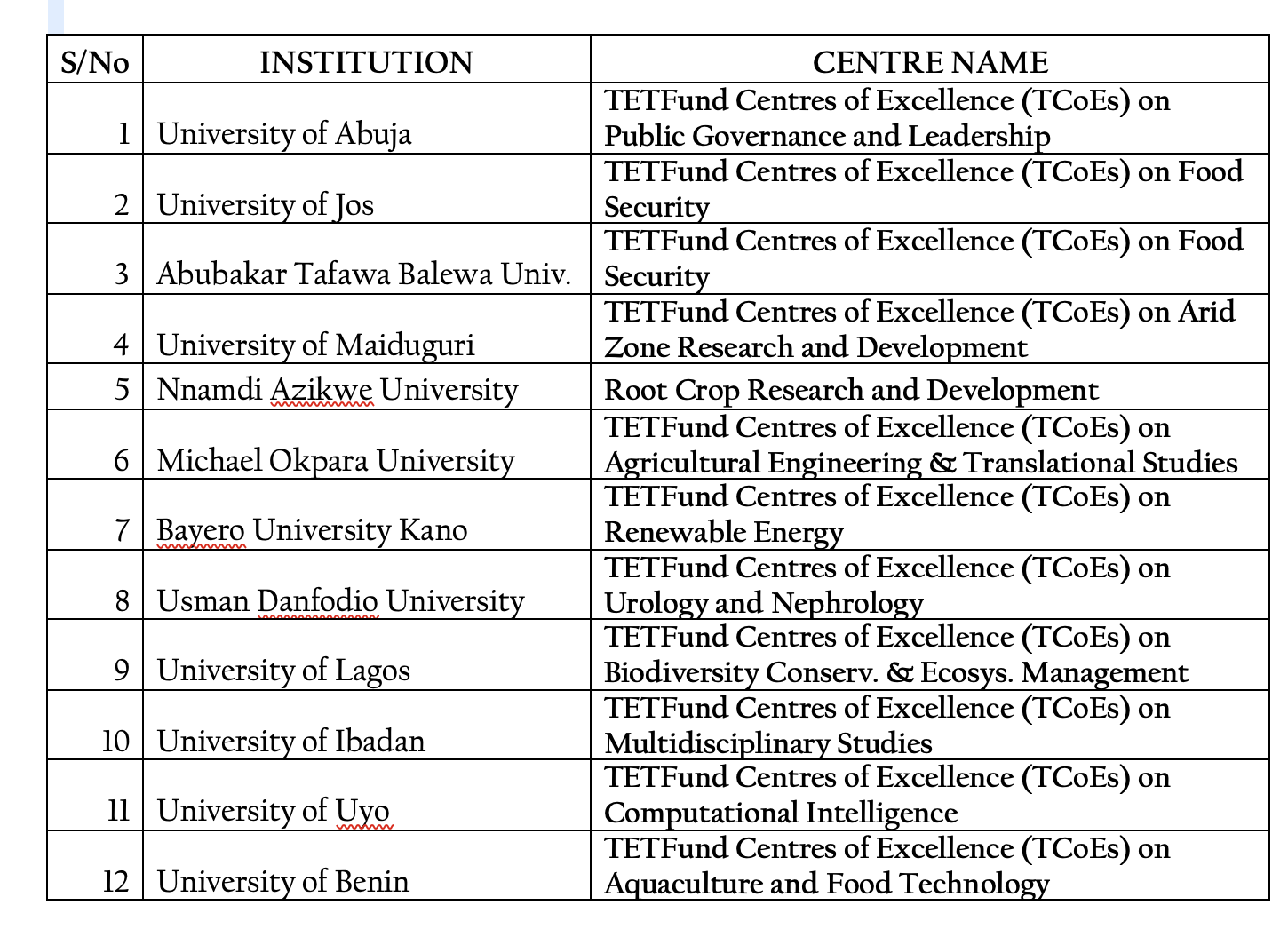 1.1 The Centres of Excellence as conceptualized by the Board of Trustees is an initiative that, on the African continent, can only be compared with the World Bank-Sponsored African Centres of Excellence.
A steering Committee of nine (9) members was empanelled and inaugurated on 1st July, 2020, with the sole responsibility to draft a working document for the TCoEs. Following the Inauguration, the Committee held five (5) meetings, prepared and submitted a working document consisting of three (3) segments – Establishment, Operational and Financing Guidelines – to the management for approval and further action
Further to the approval of the working document, the selected institutions were invited for the formal allocation and briefing ceremony, which took place on Thursday 26th November, 2020 at the TETFund Boardroom. The Executive Secretary further directed the R&D/CE department to organize a training workshop on establishment, operation and administration of Centres of Excellence to all Heads of Selected Institutions, Directors and Staff of the TETFund Centres of Excellence (TCoEs).
Consequent on the above, three (3) experienced Resource Persons who are serving as the Directors of World Bank African Centres of Excellence and thus versatile in matters related to Centres of Excellence in terms of Establishment, Administration and Sustainability of CEs were nominated and forwarded to the ES for his approval. In furtherance to the ES approval, the R&D/CE Department successfully organized the two-day training workshop, which took place on the 17 – 18th December 2020 at Fraser suit, Abuja. Furthermore, the Resource persons have submitted their report for the ES and the BoT Consideration and approval (Appendix II).
Sequel to the report of the workshop and in line with the Fund's mandate and its commitment to institutionalize Research, Development and Innovation in Nigerian Public Tertiary Institutions, the ES deemed it expedient to review the working document for excellent management and guaranteed sustainability of the TCoEs. As such, he directed the R&D/CE Department to set up a Committee with the sole mandate to produce a revised version of the Strategic Framework and Establishment Guidelines for TETFund Centres of Excellence (TCoEs) document referential to the Fund's vision.
In view of the above, the department proposed a committee comprising eight (8) members (3 external technical persons and 5 internal members) to carry out the review process. Following the ES approval, the Committee has successfully carried out its assignment from 25th – 29thJanuary 2021 and submitted both the revised document and its report to the ES and BoT for consideration and approval.