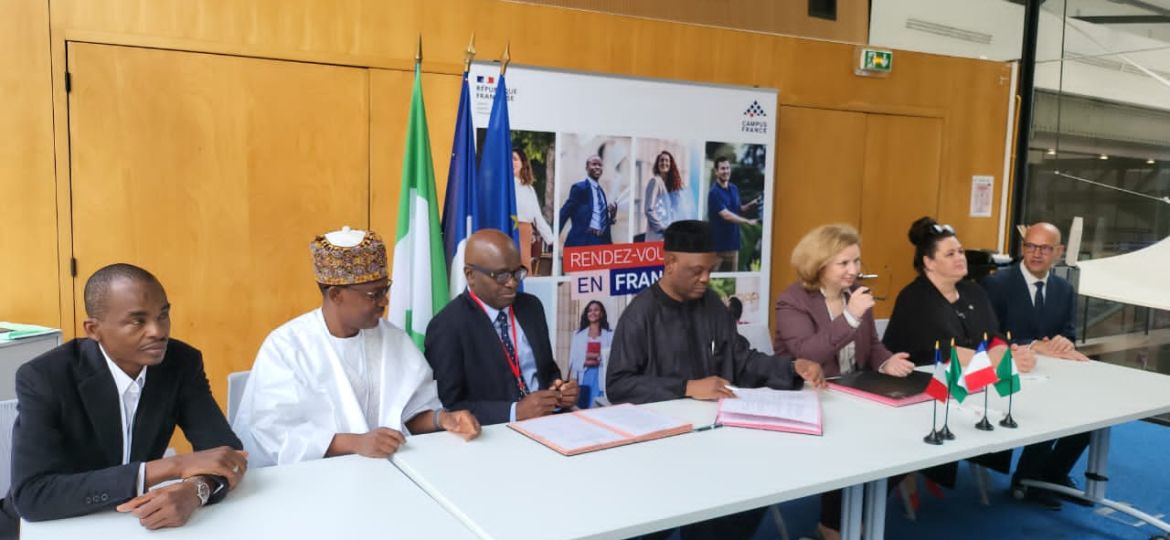 The Tertiary Education Trust Fund (TETFund) has set a new dawn in the relationship between Nigeria and France with the signing of a Memorandum of Understanding with Campus France on collaboration in the areas of joint research and promotion of innovation, training of qualified Nigerian academics in French higher educational institutions, scholars/students exchanges and support for French language immersion programme.
The Agreement was signed on behalf of the Fund recently in Paris by the Executive Secretary of TETFund, Arc. Sonny S.T. Echono while attending an event tagged "Nigeria Days in France" organized by the French Embassy and Campus France to strengthen the bilateral cooperation between Nigeria and France in the fields of higher education and research, which has the full support of the French Ministry for Europe and Foreign Affairs.
Under the Agreement which was witnessed by the Nigerian Ambassador to France, His Excellency, Kayode Laro and the France Ambassador to Nigeria, Her Excellency Emmanuelle Blatmann, Campus France would assist in facilitating the placement of TETFund scholars in specialized institutions in France at very low tuition; particularly in the areas of Science, Technology and Engineering which are germane to the technological and economic development of Nigeria.
The programme would also expose scholars to world class facilities, encourage collaboration between French and Nigerian scholars in carrying out cutting-edge research and innovation, while also providing opportunity for students and staff exchange.
The Forum, which had Representatives of 29 French Tertiary Institutions and 7 Vice Chancellors of leading universities in Nigeria, explored avenues for linkages, partnerships and the integration of Nigerian and French cultures considering the fact that Nigeria is bordered mainly by francophone countries.
Speaking during the signing of the Memorandum, Arc. Sonny. S.T. Echono expressed delight at the partnership and stated that drawing from the success recorded in similar partnerships between Campus France and the Petroleum Technology Development Fund (PTDF), he was confident of the positive outcomes derivable from the agreement, especially given the high global ranking of participating institutions and the cost advantage, compared with similar institutions in the United Kingdom and United States of America.
Campus France is a public institution in France responsible for promoting higher education and implementing international mobility programmes. It operates under the supervision of the Ministry of Foreign Affairs and that of Higher Education and Research in France and maintain close relations with the world of higher education and research through the Campus France Forum which has close to 370 universities and other institutions as members.
Other agencies of the Nigerian government and participants at the "Nigeria Days in France" event include the National Universities Commission (NUC), PTDF, Nigerian Mission to UNESCO, Nigeria French Language Village and Vice-Chancellors of University of Ibadan, Obafemi Awolowo University, Ile-Ife, University of Lagos, Bayero University, Kano, University of Jos, Alex Ekwueme Federal University, Ndufu-Alike, Nnamdi Azikiwe University, Awka, amongst others.