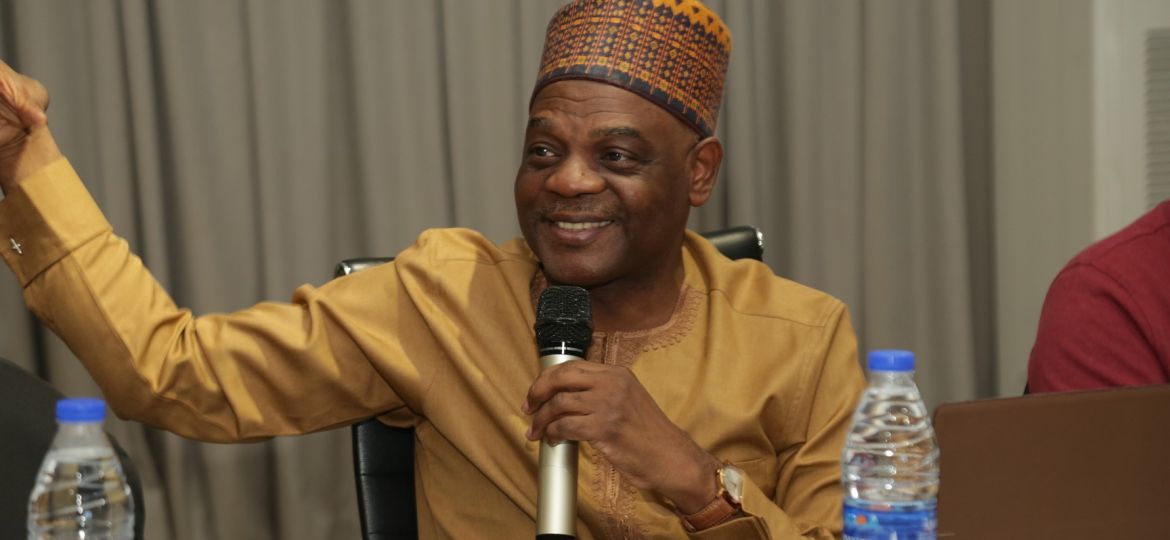 TETFund: Boosting Labour Market Prospects For Varsity Graduates
"All you need is the plan, the roadmap and the courage to press on to your destination" -Earl Nightingale (March 12, 1921- March 25, 1989).
For Stakeholders in the Nigerian Education Sector, and even for outsiders looking in, the giant leaps in service delivery to the partners of Tertiary Education Trust Fund (TETFund) since the assumption of office of Architect Sonny S.T. Echono as the Executive Secretary, 12 months ago, would be undeniable.
TETFund, which will be celebrating its 12th year in 2 months (original Education Tax Fund Act of 1993 was repealed and replaced with Tertiary Education Trust Fund Act in May 2011, by the National Assembly), has succeeded immensely in its objectives through the provision of intervention lines to support physical infrastructure and project upgrade.
It has also issued scholarships, and sponsored training for tens of thousands of Academic and Non-Teaching Staff, Institution-based research, entrepreneurship and many other transformative initiatives in our public tertiary education domain.
In essence, the contributions of the past Board of Trustees, Management and Staff to the success of the Agency were never in doubt. In fact, the laudable feats being recorded by the current Management and Staff rest on the giant planks erected through the hard work and unwavering commitment of TETFund's past handlers.
Upon resumption on March 21, last year, Architect Echono sued for cooperation of members of staff and charged them to be more committed to smart service delivery. He also urged them to make excellence their watchword in their various endeavours.
Going further, the new steersman shared some of his plans which include the continued support for National Research and Development, honing the Triple Helix Model (alliance between the academia, private sector and government) initiative, rejigging departments by enhancing their capacities for better service delivery, amongst many others.
Right off the bat, and under his leading, TETFund set on a mission of expanding the frontiers of academic partnerships and cooperation with countries and institutions in the United Kingdom, Belgium, other countries in Europe, Asia and the Americas in the fields of Academic Staff and Training, Research and Development, Agriculture, and Information & Communication Technology (ICT).
Playing host to a delegation led by the Deputy British High Commissioner to Nigeria, Mr Benedict Llewellyn-Jones and the UK Government International Education Champion, Professor (Sir) Steve Smith early in his administration, the Executive Secretary said the exigencies of the current knowledge and technology driven age, has led the focus of the Fund more in the direction of outcome-based education for Nigerian students.
He maintained the organisation is resolute in developing Centres of Excellence, establishing Mega Research Grant Intervention, encouraging Entrepreneurship among others, all in a bid to ensure that Nigeria's tertiary institutions become the drivers of technological advancement, growth and development for the nation at large.
Responding, Professor Smith said the United Kingdom was ready to assist in pushing the ambitious plan of the Federal Government of Nigeria towards developing a plan to improve trans-border education on a sustainable basis and for the long term. He affirmed the imperative of expanding learning frontiers wherein, institutions in the United Kingdom would partner with Nigerian Universities in a robust and an all-inclusive educational cooperation.
The Belgian delegation led by the Director of Internalisation, Ghent University, Professor Guido Van Huylenbroeck also spoke on the need for partnering with Nigerian universities on Research and Development as a precursor to identifying problems in the Nigerian academic space with a view towards proffering the right solutions for solving them.
Clearly disturbed by numerous research outputs lying dormant in Nigeria's libraries, and the fact that few existing repositories are not readily accessible to national or global audience, Architect Echono also set up early to inaugurate a Steering and Coordinating Committee on "Thesis Digitisation", led by Professor Yakubu Ochefu, the Secretary-General of the Committee of Vice-Chancellors.
To him, and with the backing of experts, the need for a National Academic Research Repository (NARR) or a National Knowledge Bank (NKB) was compelling in order to find digitised homes for a lot of high quality research papers which had accumulated over the years.
The Executive Secretary wasted no time in embracing an "anti-plagiarism" device developed by the Committee of Vice-Chancellors to stem plagiarised research works and promote originality in academic research; describing it as a useful tool in correcting the quality of poor thesis churned out by graduates of institutions of higher learning in Nigeria.
Inadequate foreign exchange, poor book quality and escalating demand for published works amongst other militating factors have been the bane of the Academia for a good number of years. To tackle this lingering menace, the TETFund Management, through its inventive Higher Education Book Development Project sponsored during the past year, the publications of 60 indigenous textbooks for use in the Nigerian academic community.
Lauding the TETFund initiative, Minister of Education Mallam Adamu, speaking through the Minister of State, Rt. Honourable Goodluck Nanah Opiah stated that the dearth of high standard tertiary level textbooks has reached near endemic proportions and that the quality of the Books' authorship and the local domiciliation of their production will engender the availability of suitable books in varied disciplines, safeguard national pride and also ease pressure on scarce foreign exchange.
Even though he has ensured that intervention lines are promptly made available to Nigeria's public tertiary institutions, and a good number of physical projects, running into hundreds of billions, are being commissioned in droves, across various institutions of higher learning since his assumption of office, the Executive Secretary never hid his passion for the "…institutionalisation of Research & Development (R&D) and ensure that the research outputs from our tertiary institutions are tailored towards solving our societal problems to enhance national development…".
December 14, 2022, remains one of the proud moments for Nigeria, as the Triple Helix Model (defined in the 5th paragraph above), roared to life, with the unveiling of a group of 71 academics (broken into teams), and selected across the nation's tertiary institutions to undertake research in various fields under TETFAIR (TETFund Alliance for Innovative Research). The unique component of the Fair (billed to run for 12 months) is to guide innovation through processing or production, and ensure that finished products are matched with commercial viability.
The 71 egg-heads will be exposed to International Mentorship for capacity enhancement, and would also be taught on techniques of product patenting, in conformity with best global practices.
TETFAIR is set to confront some of Nigeria's challenges head-on, with home-grown innovations, ventures, job creation and would spur a constant stream of foreign exchange earnings in the near future. (More on the much-celebrated TETFAIR can be read in my piece titled "TETFAIR on the Cusp of Changing the Nigerian Story", as published in The Leadership Newspaper of 4th of February, 2023).
Taking its definitive commitment to R&D further, the Fund's sponsored COVID-19 vaccine development is now set for preclinical trial. The giant feat was achieved by researchers from Usmanu Danfodiyo University, Sokoto, in collaboration with others from the University of Jos; National Research Institute for Chemical Technology (NARICT) Zaria; Nigeria Medical Research Institute (NMRI) Yaba, Lagos; and National Veterinary Research Institute (NVRI), Vom, near Jos.
The vaccine development is definitely a game changer given the fact the remarkable achievement was recorded by a consortium of indigenous scientists, who are also currently working on the development of Lassa fever vaccine amongst many others.
Perhaps there's nothing more disheartening than watching the number of unemployed graduates grow, year-on-year, with few employment opportunities in sight. Lack of rewarding job engagement has devolved into cataclysmic waves of advance fee fraud, armed robbery, prostitution, drug trafficking, kidnapping and general restiveness among Nigerian youths, today. Yet, a considerable number of graduates being churned out, are either deemed unfit for purpose, or generally unemployable by few organisations that are hiring.
Recently, TETFund commenced the "Employability Benchmarking Programme" in Nigeria's tertiary institutions in active collaboration with the International Finance Corporation (IFC), and other partners, as a way of tackling the composite challenges of unemployment (33%); youth unemployment (42.5 %) and youth underemployment (21%), as lately put out by the National Bureau of Statistics.
Architect Echono stated that the programme is geared towards improving graduate employability, and as a corollary, assist higher institutions in making the requisite tweaks in their curriculum, and in alignment with market dictates.
The programme dubbed "IFC Vitae", has been deployed to a good number of institutions of higher learning around the world as a way of forging pathways for improving graduate outcomes and instituting goals for graduate employability
Described as "Marvellous Disruptor in Nigeria's Education Space", "Encyclopedia of University Education in Nigeria", "Apostle of Digital Education in Nigeria" and other sundry monikers by admirers, it is not surprising that President Mohammed Buhari found it worthy to bestow a National honour – Officer of The Order of The Niger (OON), on Architect Sonny S.T. Echono in October last year. The award is a true recognition of his decades of beneficent service to the nation, in diverse Class-A Ministries and Departments of Government, which undoubtedly, has prepared him for his current role.
In the words of renowned author, Horace Jackson Brown Jr (March 14, 1940 – November 30, 2021), "The best preparation for tomorrow is doing your best today". I believe the Executive Secretary is living this creed, day to day.
With so many outstanding achievements tucked under his belt within a time-frame of one year, it is certain that Nigeria is yet to witness the best of this all-encompassing, well-grounded and brainiac technocrat.
Eniola Olakunri, a public sector analyst, writes from Abuja
Email: eniolaolakunri@gmail.com
Phone: 08033467676 (WhatsApp only pls).
Terms & Support