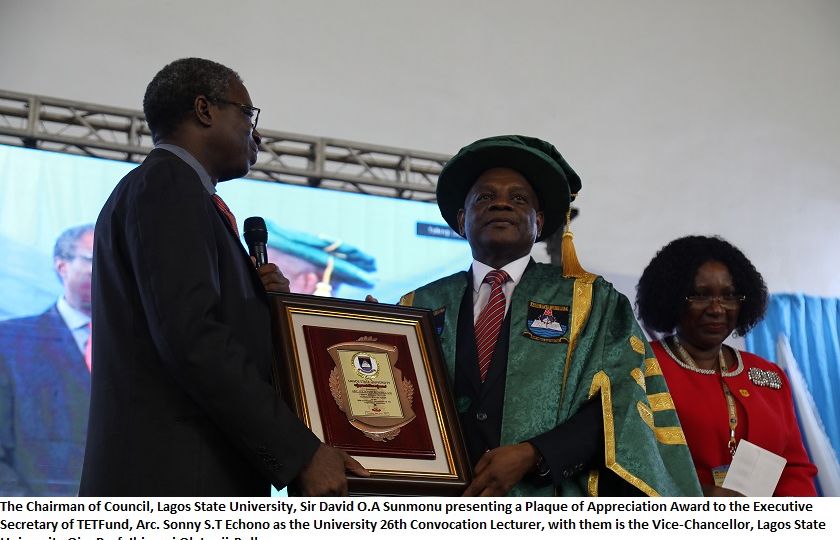 The Executive Secretary of Tertiary Education Trust Fund (TETFund), Arc. Sonny S.T. Echono has expressed the consciousness of the Fund about the role of technology in elevating educational institutions, hence its commitment towards promoting and supporting digital literacy and technological integration in public tertiary educational institutions in the country.
Arc. Echono stated this recently in Lagos while delivering the Convocation Lecture titled "Higher Education in a Digital Age" at the 26th convocation ceremony of Lagos State University (LASU).
While noting that "the emerging massive, unprecedented and irreversible digital transformation taking place in the world" has necessitated workforces of tertiary institutions and their graduates to acquire new skill and technologies to accelerate their social and economic development, the Executive Secretary stated that the Fund has developed various digital literacy initiatives for its beneficiary institutions.
These initiatives, he said, included support for ICT related procurements requested by Beneficiary Institutions, digital literacy and capacity development for staff of Beneficiary Institutions with over 19,000 persons trained and certified as at Year 2020, support for e-journals subscription for research and teaching, establishment of a Digitization Project Steering Committee, among others.
While pointing out that the use of ICT would assist more people have access to education among other possibilities, the TETFund boss added that graduates currently need a mix of skills more than in the past, most of which depend on digital literacy.
In his remarks, the Chairman of the occasion and Executive Secretary, National Universities Commission (NUC), Prof. Abubakar Rasheed commended the Vice Chancellor of the university, Prof. Ibiyemi Olatunji-Bello for her efforts in making LASU one of the most sought-after educational institutions in Nigeria. He noted that out of the 71 undergraduate courses run by the university, 69 were accredited by NUC, a development he said was outstanding.
In her welcome address, Prof. Ibiyemi Olatunji Bello expressed appreciation to Arc. Sonny Echono and Prof. Abubakar Rasheed for honouring the university's invitation, stating that she considered it an honour to have both of them in attendance at the event.
As part of activities marking the convocation ceremony, two TETFund-sponsored projects were commissioned in the university by the Executive Secretary of NUC, Prof. Abubakar Rasheed shortly before the convocation lecture. They are the Faculty of Art and Faculty of Communication and Media Studies Buildings.