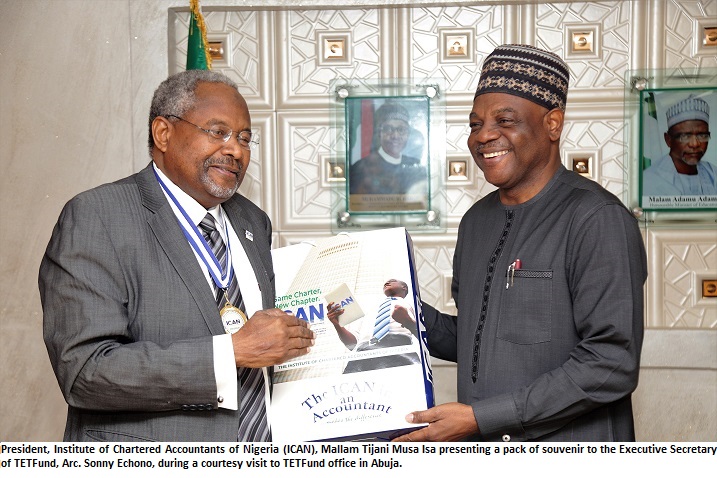 Nigeria's foremost professional accountancy body, the Institute of Chartered Accountants of Nigeria (ICAN) have been advised to bring their professional prowess to bear through the institution of urgent reforms that would not only entrench transparency but stop the persistent leakage in every sector of the economy.
Executive Secretary of Tertiary Education Trust Fund (TETFund), Arc Sonny Echono who made this call also reiterated that roles of accountants also include helping the country devise systems, establish guidelines, enforce internal controls and framework to ensure that the scarce resources available to the country are harnessed and properly deployed to addressing the urgencies of the nation.
Echono spoke when members of ICAN led by the 58th President, Alhaji Tijani Musa Isa paid a visit to the Executive Secretary in Abuja.
"We believe that entrenching professionalism in every aspect will assist in repositioning this country in reforming our systems of processes and re-establishing those values and principles that led us before, during and immediately after independence, with trajectory of propriety and accountability. Every day we hear of leakages within the system, at the time where we can least afford them
"We have a situation where our expenditure profile far exceeds our revenue receipts; and for the foreseeable future, this is going to subsist, unless we take urgent measures to change focus for the productive sector of our economy. We must make haste to minimize those destructive tendencies that got us here. So, I want to encourage ICAN to lead this because you have the membership, you have the experience, and you can have the stature and reach in this country to make that change".
"I want to commend you for what you have been able to establish in this country. There are no doubts that Nigeria stands very tall in the accounting comity across the entire globe. Our accountants are well respected globally because we have instituted systems," he said.
Responding to request for TETFund's participation in the upcoming international and local conferences, he assured the visitors that the Fund would be adequately represented to ensure staff are exposed to the highest standards of practice.
Speaking during the visit, Alhaji Tijani Musa Isa, who is a former member of TETFund's Board of Trustees revealed that several of ICAN members in academics have benefitted from TETFund's Academic Staff Training and Development (AST&D) funding provided in a bid to expand the frontiers of knowledge in accounting and finance.
He explained that the scheduled ICAN conference is designed for knowledge exchange among academics as well as mentoring of graduates of Accounting.
We will commence an annual international academic conference for Accounting and Finance as a forum for sharing knowledge and ideas of contemporary literature in the profession. The institute will greatly appreciate it if TETFund will collaborate with us in the 8th edition of the conference slated for February 2023," he implored.