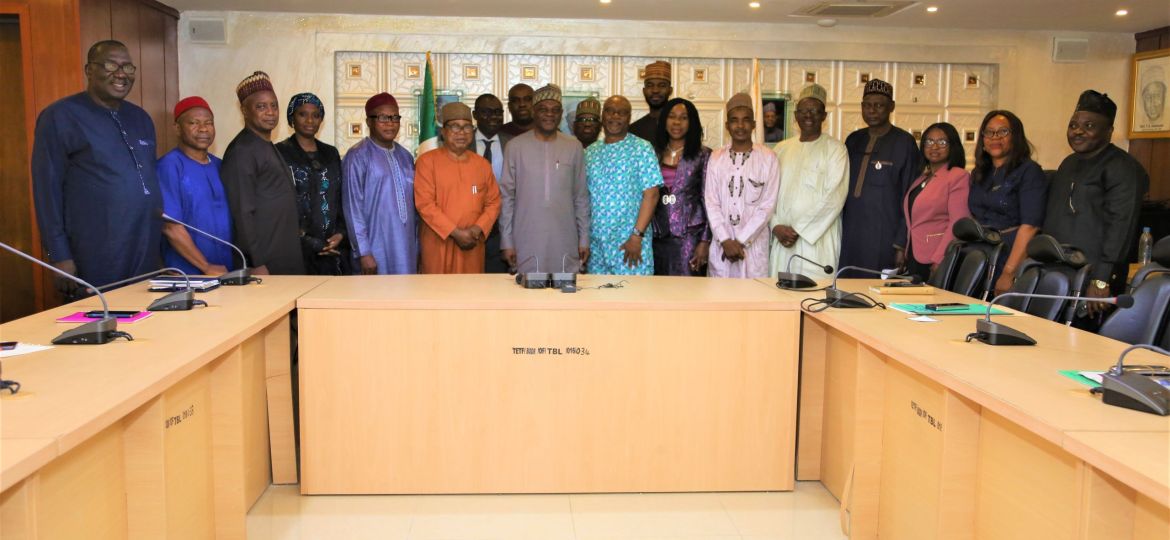 The realization of the centrality of digital literacy in every aspect of life has given the impetus for its total embrace, particularly in the tertiary education sector, the Executive Secretary, Arc Sonny Echono has said.
The Executive Secretary made the observation when a delegation from the Joseph Sarwuan Tarka University, Makurdi, led by its Vice Chancellor, Professor Richard Kimbir paid him a courtesy visit in his office in Abuja.
He emphasized that tertiary institutions in Nigeria must not lag behind but should join what has become a revolution that the global community is taking a cue from.
Arc Echono said, "digital literacy is our focal point, because that is where the world is going now. Digital revolution is so central to every aspect of life, and we must follow that trend.
"We want our universities to adopt hybrid mode, where they should be able to interact online and real time in other to maintain our competitive edge", he further explained.
Digital literacy is the capacity to learn, evaluate, utilize, share and generate content using the tools of Information Technologies (IT) and the internet.
He expressed appreciation to the team for the great work they are doing to uplift the university, noting that Benue State is one of the leading states in the Northern Nigeria in terms of human capital development.
On the request by the Vice Chancellor for the completion of two suspended buildings in the institution, Arc Echono assured that the Fund has gotten Federal Government's approval to earmark sufficient funds to speed up the completion of all suspended projects across the beneficiary institutions. "We will work out a schedule to address these pending issues of suspended projects", he added.
In his remarks, the Vice Chancellor made an appeal to TETFund for an Information Communication Technology building, which he noted the school is in dire need of.
While congratulating the Executive Secretary, Professor Kimbir pledged his total allegiance to the TETFund Boss, with a view to ensuring the successful execution of TETFund mandates.
Speaking further, he appealed to Arc Echono for more Funds for the completion of all abandoned projects in their Institution.