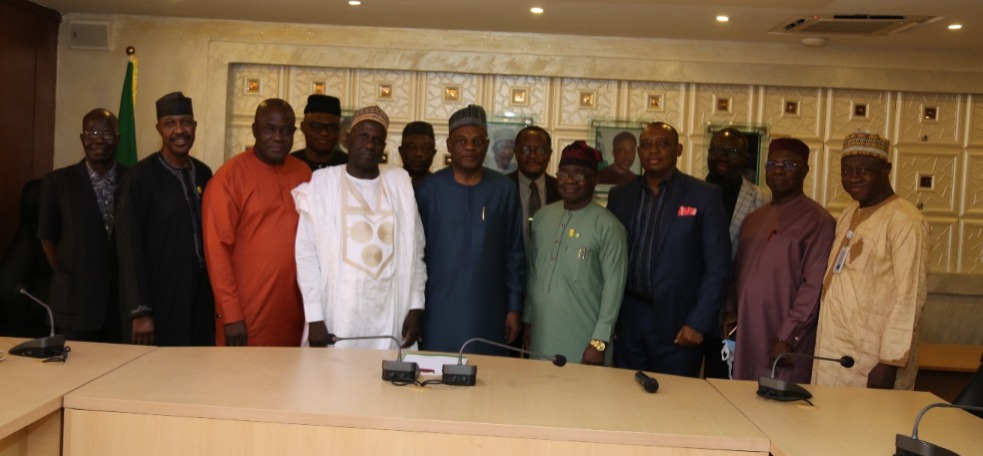 The Executive Secretary TETFund Arc. Sonny Echono has revealed plans to develop sufficient capacity for TETFund Centres of excellence to move up to the next layer of the African Centres of Excellence through TETFund interventions.
He spoke while receiving in audience, a delegation from the Governing Council, Federal University of Health Sciences, Otukpo, led by the Pro-Chancellor and Chairman of the Council, Mal. Abdullahi Alkali Abba, who paid him a coutesy visit at TETFund headquarters in Abuja.
Echono called on Nigerian Public Institutions to prioritise the development of specific programs to support their human capital component in their TETFund allocated interventions.
He said,"I'm aware that NUC is also working on a similar plan. They want to be able to help the university administrators in the management of university environments, and also to seek staff to partner with various institutes, and for us to be able to sponsor such interactions to the extent of our obligations to such scholars".
The Executive Secretary assured the visiting team of the Fund's commitment to investing in human capital development, adding that the Center for Infectious Diseases is an area that resonates with the President and therefore should be promoted for consideration in the African Centres of Excellence program partnership even as robust support strategies are being put in place by TETFund.
"First we've discovered that new institutions tend to have an adverse effect on even the existing older federal public universities, because they tend to take a lot from them and they focus to move these institutions to achieve their standing, to improve their career prospects and so on. And then evidently the older institutions suffer.
But if we also want to start an institution to set the right standards, and for them to maintain those standards, we need to impress in human capital development".
Echono commended the visiting team for their alacrity and readiness to work hand in hand with the Fund, and assured them of TETFund's support in furthering their goals to move their institution up to world class standard.
"On behalf of the management and the staff, I want to deeply appreciate you and thank you most sincerely, we are very certain of your high standards and that you will maintain those standards"
Speaking earlier, the Pro chancellor and Chairman of Council of the University, Mal Abdullahi Alkali Abba laid out some pressing issues of the Federal University of Health and Sciences to the Executive Secretary, urging him to consider the unique nature of the university as the first federal-owned Health Science institution.
Mal Abdullahi further drew attention to the severe needs of the University for TETFund Special interventions. Some of the proposed areas of support pushed forward by the visiting committee included increase in infrastructure, construction of road network, construction of perimeter fence, and man power development which will subsequently result in rapid development of staff.
The Pro Chancellor hailed Echono as having a record of excellent service in his previous role as Permanent Secretary of Ministry of Education, calling his recent appointment as the Executive Secretary of TETFund a 'Divine reward' and proof of his commendable management skills.
"The governing council wishes to use this opportunity to thank you immensely for all your support to the University, it being the first federal-owned University of Health Sciences. You have been one of the architects that actually pushed to get the University off its feet and we thank you very much for that. We thank you sincerely in facilitating the interventions we've had from TETFund of 1 Billion Naira which we are putting to great use", he said.