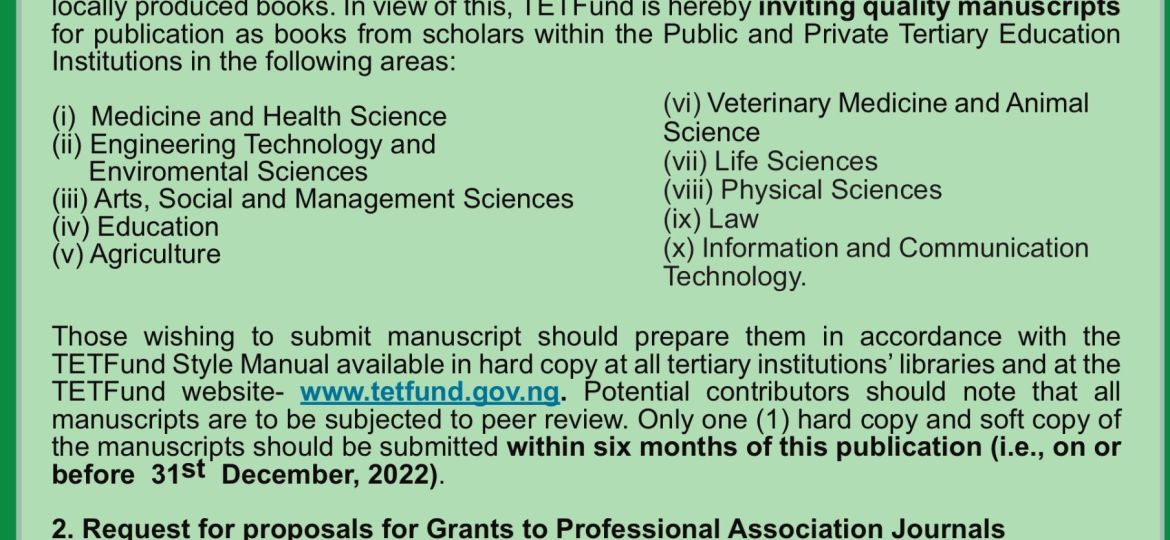 The Board of Trustees of the Tertiary Education Trust Fund (TETFund) in the implementation of its mandate to establish and nurture Higher Education Book Development Culture has set up a Technical Advisory Group (TAG) to execute the Mission.
This call for quality manuscripts is to address the paucity of reading and learning materials in Nigeria's Higher Education Institutions. Book scarcity has reached a crisis proportion as evident not only in the quantity of books available, but also in the quality of locally produced books. In view of this, TETFund is hereby inviting quality manuscripts for publication as books from scholars within the Public and Private Tertiary Education Institutions in the following areas:
(vi) Veterinary Medicine and Animal Science
(vii) Life Sciences
(viii) Physical Sciences
(ix) Law
(x) Information and Communication Technology.
Those wishing to submit manuscript should prepare them in accordance with the TETFund Style Manual available in hard copy at all tertiary institutions' libraries and at the TETFund website- www.tetfund.gov.ng. Potential contributors should note that all manuscripts are to be subjected to peer review. Only one (1) hard copy and soft copy of the manuscripts should be submitted within six months of this publication (i.e., on or before 31st December, 2022).
1. Request for Quality Manuscripts
(i) Medicine and Health Science (ii) Engineering Technology and
Enviromental Sciences
(iii) Arts, Social and Management Sciences (iv) Education
(v) Agriculture
2. Request for proposals for Grants to Professional Association Journals
TETFund's support to Professional Association Journals is to improve their quality, impact, visibility and contribution to global knowledge dissemination. Professional Associations wishing to apply for support for their journals in the form of grants of up to N5 million should:
(i) Submit a formal application specifying the name of the journal, location of the secretariat, the name and address of the Editor-in-Chief and the composition of the Editorial Board;
(ii)Provide evidence of consistency of publication, peer review mechanism, editorial policy, abstracting and indexing;
(iii) Submit one copy each of the last three volumes of the Journal for inspection. This must be done within six months of this publication (i.e., on or before 31st December, 2022).
All applications and submissions should be addressed to: The Executive Secretary, Tertiary Education Trust Fund (TETFund). No. 6. Zambezi Crescent, Off Aguiyi Ironsi Street, Maitama, Abuja.