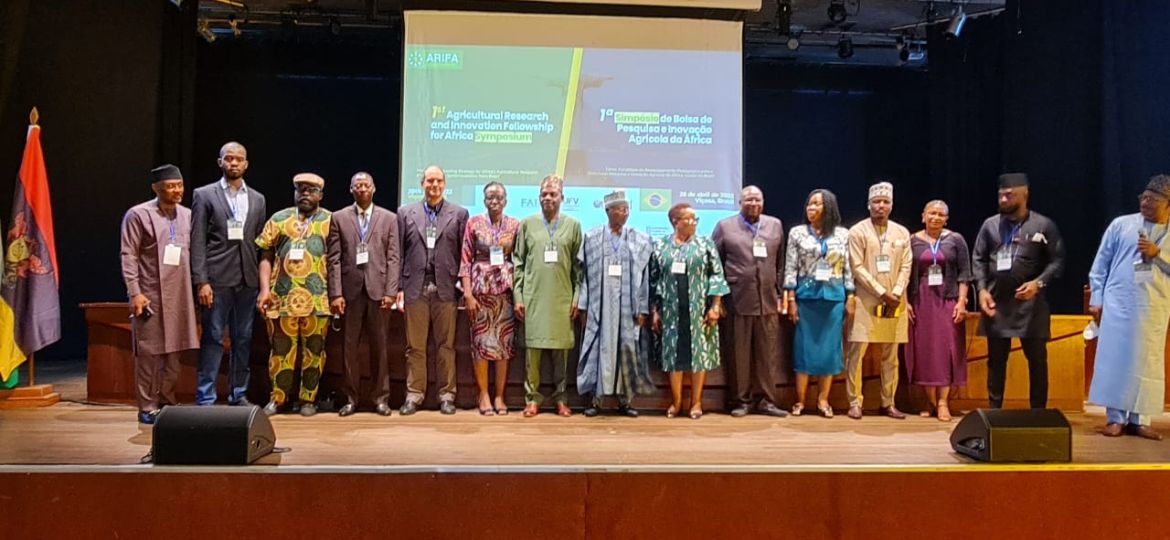 Determined to bring the needed transformation in the nation's Agricultural sector, Federal Government, through the Tertiary Education Trust Fund (TETFund) has formed a partnership with the Government of Brazil and Forum For Agricultural Research in Africa (FARA) to achieve the objective.
The deal was sealed at the First Agricultural Research and Innovation Fellowship for Africa (ARIFA) Symposium, held at Federal University of Viçosa, Brazil, with the theme "Pedagogic Retooling Strategy for Africa's Agricultural Research and Innovation System: Lessons from Brazil".
The Executive Secretary of TETFund, Arc Sonny Echono, who led the Nigerian delegation to Brazil, said the Fund is committed to the success of the partnership, having weighed the multiplier positive effect to Nigeria.
He recalled that TETFund is presently sponsoring about 120 scholars who are running their Masters and PhD programmes in Brazil with the sole objective of under-studying their Agricultural Revolution Policy and its impact on the national economy.
Arc Echono noted that Nigeria stands to benefit a lot, considering the advantage of similarities in climate, ecology, and crops of the two countries, "meaning that whatever grows or works here will also work in Nigeria", he explained.
He emphasized that the ideal research must be for development and whatever area of research must translate to value addition to humanity, noting that the Fund has been at the forefront of advocating for Research and Innovation to proffer solution to national problems.
The TETFund Boss said the focus was leading the transformation of Public Tertiary Institutions in Nigeria to make them more relevant to addressing developmental challenges and improve their global ranking, adding that the Fund would spare nothing to strengthen this collaboration to effectively deploy Science and Technology Research in Agriculture.
Echono said: "Until we make our educational institutions relevant to our national development objectives in our country, we won't optimize the objectives for tertiary education, that is why we are strengthening collaboration.
"Our challenge is the quality of our graduates. When you say you are a graduate in Nigeria, what special skill do you have? Because in today's workplace, it is not the length of your certificate that matters. Employers want to see what you are bringing to the workforce and what value creation you are going to be adding on. So essentially, they want fit-for-purpose graduates, the previous and current practice of employing people and sending them for trainings in Europe and other countries to retrain them before they can now work, should be a thing of the past", he insisted.
Executive Director, Forum for Agricultural Research in Africa (FARA), Dr Yemi Akinbamijo said the theory of change of ARIFA is to generate a new cohort of science-based change-makers in Agri-business.
According to him, this theory has to do with breaking the vicious circle in recycling of near moribund and non-functional Agric mechanisms, which includes bringing innovations for public good, massive capacity building, as well as public/private partnership.
The Executive Director pointed out that ARIFA has become a working model for other Africa countries to emulate as it pushes for imperative areas such as retooling Africa for development, exchange of knowledge and technology, joint capacity development, advancing research frontiers, among others.
Dr. Akinbamigo advised that for Nigeria to make a significant progress in tackling food shortage and over dependence on importation, there is need to scale up the number of scholars being trained for the Agricultural programme to as much as 500, to ensure food insecurity becomes a thing of the past.
Also speaking, Nigerian Ambassador to Brazil, Professor Mohammad Ahmad Makarfi appreciated TETFund for spearheading the partnership, which he described as very critical to the Federal Government's agenda on food security.
The Nigerian Ambassador assured the Nigerian delegates of his maximum support to facilitate the successful partnership that would translate to a major boost in the Agricultural sector.
"What TETFund is doing is to expose Nigeria to these better technologies and I will continue to support Echono to achieve these. We must run. There is no time to waste because a lot of West African countries are depending on Nigeria for food. The Brazilians have already done a lot of research, so we just need to get what we can from them", the Ambassador said.