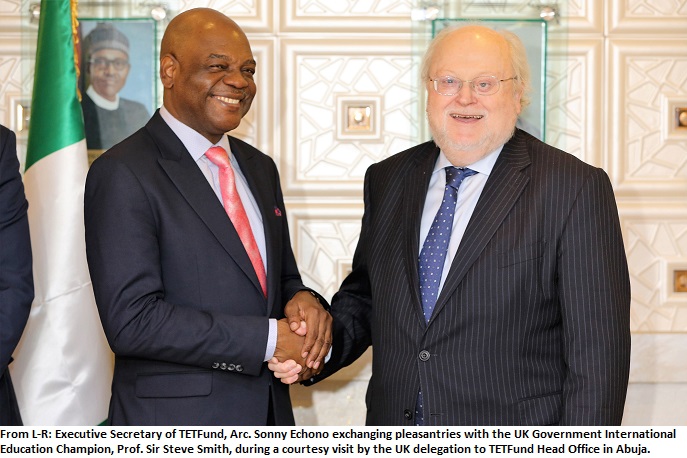 The United Kingdom and Nigeria have set plans in motion for a collaborative venture that would lead to an improved and sustainable transnational cooperation in tertiary education sector.
The United Kingdom Government International Education Champion, Professor Sir Steve Smith led a delegation from the British Council on a courtesy visit to Tertiary Education Trust Fund (TETFund) in Abuja to declare the country's intention to partner Nigeria for a more inclusive transnational education that would be of symbiotic benefit for the two countries.
According to Professor Sir Smith, "we are here to see how we can push the ambitious plan the Federal Government of Nigeria have for education, to develop a plan to improve transnational education, a long standing and sustainable partnership for a positive link on a long-term basis".
He emphasized the imperative of expanding transnational education system whereby the institutions in the United Kingdom would partner with Nigeria Universities in an all-inclusive educational system in terms of Research.
The delegation also sought for clarifications on TETFund processes, plans and strategies for supporting development within the Tertiary Education sector in Nigeria to enable United Kingdom identify areas of supporting the Fund with a view to achieving its mandate and identifying areas for potential future collaboration.
The UK Education Champion revealed that the United Kingdom has identified 5 countries to partner with, including Nigeria, Vietnam, India and Saudi Arabia, to further strengthen their bilateral ties through Research and Development in the education sector.
He noted that building on the UK Research Eco-System is critical, and if transnational Doctoral training is supported, it would be a win-win for both countries.
The Executive Secretary, Arc Sonny Echono while responding, told the delegation that the Fund is excited about the proposal and would want to have the partnership in multiple dimensions.
In a PowerPoint presentation, Arc Echono took the visitors through the history of TETFund activities, brief processes of intervention activities and the emerging challenges bothering on dwindling Education Tax generation as well as partnerships with other countries.
He stated areas of needs to include, Information and Communication Technology, Academic Staff Training and Development, Research and Development, among others.
The Executive Secretary expressed that the Fund is committed to addressing issues of deficits in infrastructure, human capacity. He added tha the Fund has also established Centres of Excellence to encourage specialization and for institutions to leverage on comparative advantage so that each institution could be identified easily with specific area in Research and Development, which will ultimately help proffer solutions to national needs.
Echono explained that the proposed partnership should be symbiotically beneficial to Nigeria and United Kingdom, "where we can learn from one another, we need global partners to have their presence on various campuses in our institutions for provision of modern integrated laboratories, where research can take place, including partnership with industries".
He informed the delegation that the Fund has sponsored more than 37,000 scholars in Academic Staff Training and Development in various countries overseas, stressing that bringing resource persons down to Nigeria, will to a large extent, reduce cost drastically.
He decried the international rating of tertiary educational institutions in Nigeria which has dropped drastically, stating that such partnership would further expose Nigerian institutions through linkages and leveraging on ICT.
Director of Research and Development and Centers of Excellence of TETFund, Dr. Salihu Girei Bakare in a vote of thanks, appreciated the delegation for their interest in Nigeria's education, stating that UK is in a better standing than any country in the world to forge a strong partnership with Nigeria.