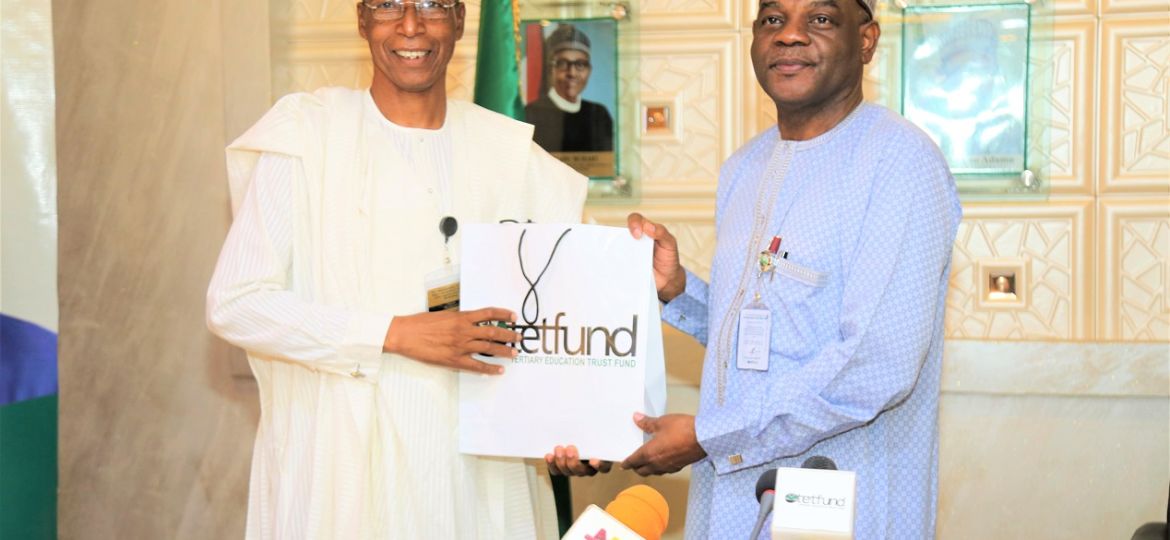 Over the years, the relationship between the Tertiary Education Trust Fund (TETFund) and the Ahmadu Bello University (ABU) Alumni Association has been a symbiotic one.
To further consolidate this, a team of the National Executive Committee (NEC) of the ABU Alumni Association paid a courtesy visit to the Executive Secretary of (TETFund), Arc Sonny Echono in office in Abuja.
Speaking during the visit, the President of the ABU Alumni, Dr. Ibrahim Sani Khali congratulated the Executive Secretary on his appointment as well as his records of achievements in service to humanity.
Dr. Khali informed Echono that the Annual General Assembly of the ABU Alumni has been slated to hold in Zaria, pleading for the Fund's support to make the event a huge success.
Dr. Khali looked forward to strengthening the corporation and support to the Alumni Association and the university at large, especially the dilapidated structures and expansion of existing facilities.
Speaking during the visit, Arc. Echono expressed excitement with the ABU Alumni visit, while taking pride in the modest effort TETFund has made to sustain Tertiary Education sector in Nigeria, adding, "we feel very proud that despite the limited resources available, TETFund over the years have been able to bring such level of impact".
"I have noted the main issues the association sort partnership and collaborations with us", explaining further that TETFund is in the process of also intervening in hostels, stating that Public Universities are providing accommodation to more than 15 percent of the students on campus.
He said TETFund would continue to play its role to sustain ABU and other pioneer institutions in the country, adding that the Fund would liaise with the organization to see areas that falls within its mandate after which collaboration and support can be extended.
The members of the team includes Dr Ibrahim Sani Khali, Adamu Mamman Kontagora, Lanre Ahmed, Sam Agbi-Ojie, Prof. Maryam Aminu and Danjuma Mahmoud.