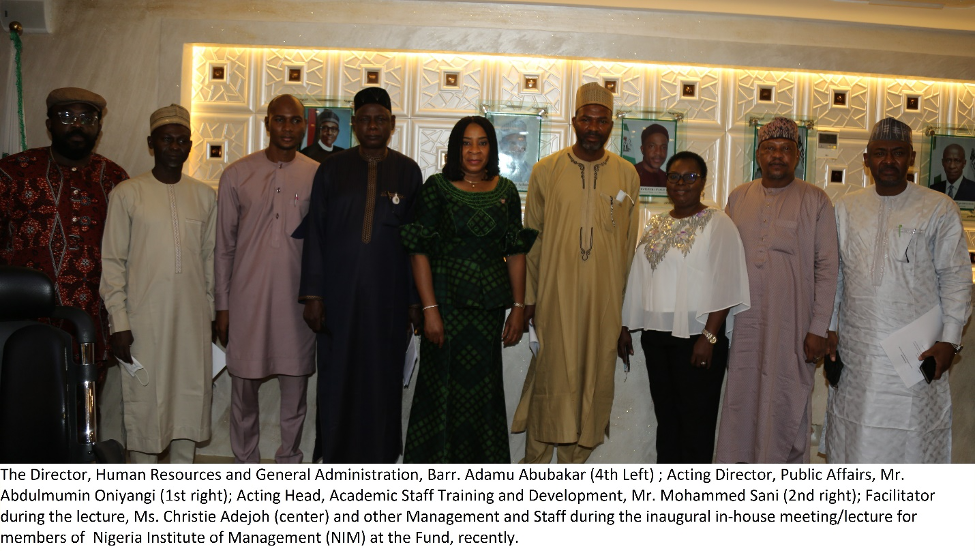 The Nigerian Institute of Management (NIM) recently held its first in-house meeting and lecture at the Head Office of the Tertiary Education Trust Fund (TETFund) for members of the Institute on the theme: Curbing of Fake News and Hate Speech in the Work place.
The guest speaker at the event, Ms. Christie Adejoh while engaging participants urged them to refrain from inciting hate speech and spreading fake news. She reiterated the need to formulate veritable strategies to curb the trends and activate strategies towards making the workplace conducive for effective performance in the attainment of its set objectives.
Speaking further, she urged members of the institute and Staff of the Fund to speak with facts and observe the principle of confidentiality when discharging their duties. She counselled participants to make a resolution to exist as a valuable resource to the Fund.
"in the workplace whether public or private, the first wisdom necessary for success in career is the resolve or determination to exist as an asset and not a concern" she said.
While giving the Vote of Thanks, the Acting Director, Public Affairs Department, Mr. Abdulmumin Oniyangi lauded the guest speaker for the educative lecture on the theme which is an issue bedevilling the nation. He implored Staff of the Fund who are not members to enrol into the Institute, noting that it is a Professional body of great repute and value.
In attendance were the Director, Human Resources and General Administration, Barr. Adamu Abubakar; Acting Director, Academic Staff Training and Development, Mr. Mohammed Sani and other members of Management and Staff members of the Institute.